We are excited to welcome Chef Guido de la Mora back to the Grand Residences family and are sure that he will delight you with his sublime dishes and attention to detail.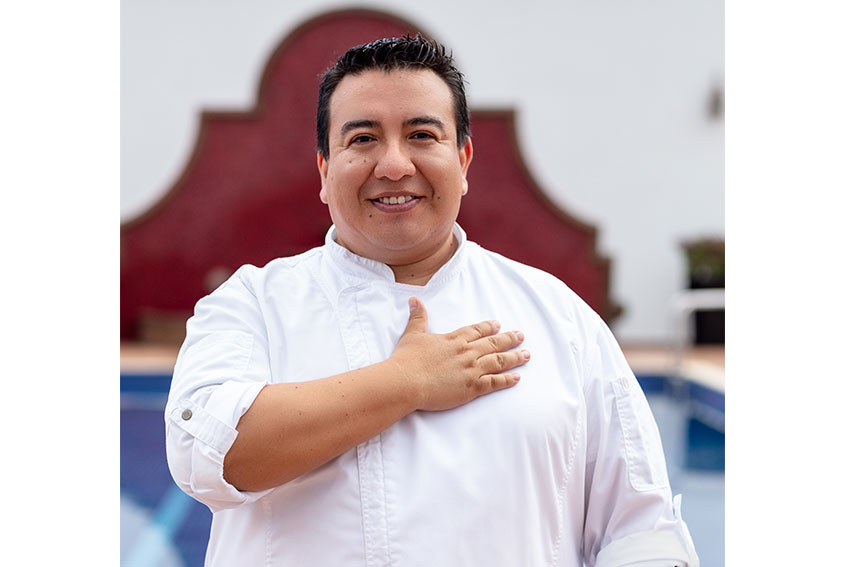 Originally from Toluca, State of Mexico, Chef de la Mora studied a degree in Ethnomusicology at the National School of Music before deciding to become a chef. He studied a two-year Diploma in Culinary Arts at the University of the State of Mexico and followed that with master class courses in vanguard cuisine and molecular cuisine at Michelin star restaurants in Spain, and in Mexican and Thai cuisine.
Chef de la Mora's career has taken him all over the world and he has worked at top restaurants and luxury hotels in Barcelona, Dominican Republic, Barbados, Curaçao, Miami, Kuwait, Dubai, Qatar, San Luis Potosí, Guadalajara, the Riviera Maya and Playa Mujeres in Mexico. Additionally, he has travelled to France, India, Indonesia, Thailand and Philippines to study different cuisines and to California for wines.
He is a senior member of the Emirates Culinary Guild (Dubai) and a member of Les Toques Blanches Association, the World Association of Chefs Societies and the Academie Nationale de Cuisine du France.
He was the runner up in the Dish of the Riviera Maya competition in Cancun and the Cornella Gastronomic Contest in Spain. He has also been a judge and exhibitor in cooking competitions held at universities in Cancun, Riviera Maya, Valladolid and Bridgetown, Barbados.
We recently caught up with Chef Guido to find out more about his inspiration. This is what he had to say.
"I come from a family of chefs," Chef Guido says, "My father was an Executive Chef on a cruise ship and my mother was a chef in a Mexico City restaurant, my grandparents were also in the food business and the family had a catering and events company in Toluca, so you can say cooking is in my blood. However, I didn't want to become a chef when I was growing up, I wanted to study music. My father agreed to help me with my college education, on one condition, that I also studied to become a Chef, so I did both.
"I graduated from the National School of Music and got some sporadic orchestral work in Mexico City, but I always felt a great deal of pressure, it seemed that I had to practice much more than my colleagues and I wasn't confident about my level. Eventually, I decided it wasn't for me and I took a year out to go traveling in Spain. When my money began to run out, I got a job in the Michelin star restaurant in Hotel Abac in Barcelona. It wasn't long before I was captivated by the gourmet world, I discovered my passion and decided to become a chef.
Guido adds, "I was lucky that one of my first hotel jobs was with Hilton. As part of their Taskforce program, I gained valuable experience and travelled widely as part of the team to open new resorts and restaurants in Barbados, Curaçao, Argentina, Bolivia and the Dominican Republic.
"Every time I visit a new country I try the food, study the ingredients, local herbs and spices and watch chefs prepare dishes using traditional techniques. It just isn't the same reading a recipe in a cookery book, you really must be there to learn about the culture, the history and the influences that shape a cuisine. With every trip I learn more, I love it.
"I'd say that my most interesting experiences to date have been in the Middle East, discovering the culture, language, religion and the ingredients used. When I was in Latin America, it was easier, we share a language and many ingredients are the same, but Qatar, Kuwait and Dubai are completely different. It is a challenge and an opportunity for growth, you work with people from all over the world in the hotels and you must adapt to that. For example, one of my responsibilities as Chef was the staff café and I had to create menus and serve food for workers of all nationalities: Indians and Pakistanis, Filipinos, Qataris, Europeans, a truly multicultural workforce.
"Everything I learned there about cuisines from all over the world has served me in good stead when it comes to fusion cuisine." Guido explains, "I recently met some guests here at Grand Residences who had travelled to India and loved the curries. I told them that I knew how to prepare Indian cuisine, and I cooked them an authentic chicken tikka marsala. They were so happy.
"I'm interested in modern cuisine and its tendencies, but my passion is for authentic flavours. After all, if you are going to make a Mexican mole, you must use time-honoured ingredients, otherwise it isn't mole."
"Here at Grand Residences, I lead a team of 41 people and my responsibilities are to maintain and raise the already high standards of food preparation and service in our gourmet restaurants, monitor hygiene measures for COVID-19, costs, staff training and the work environment.
"My goal is to create innovative and unforgettable dining experiences for our owners, members and guests, with new dishes and tendencies, theme nights and more. This includes showing our guests the magic of Mexico, the diversity of its cuisine and rich culinary culture. The first new experience will be this September with a Chocolate Tasting. Guests will be able to see how chocolate is made, touch the cacao pods, taste the beans and watch how they are transformed into the chocolate we know. They'll appreciate how chocolate isn't just for sweets, it can be used in savoury dishes such as mole. Cacao beans served with salt and ground maguey worm make an excellent accompaniment for mezcal.
"The ancient Maya cultivated cacao in southern Quintana Roo and farmers in the aptly named village of Cacao are rescuing the tradition. One of them is coming to the resort to give a demonstration and tell us about this sacred crop.
"We'll also be adding more tropical fruit to our breakfast buffet, for example caimito, zapote, mamey and guanabana. There are so many things we can do and I'm looking forward to meeting owners and members at the Wednesday cooking class. I'm also working on the concept for the two new restaurants destined for the final phase of the resort.
"Outside Mexico, I'd have to say that I love Asian cuisine and the fragrant ingredients used, such as ginger, cardamom, kaffir lime, lemon grass and star anise. They all work well with Mexican dishes to create an exquisite fusion of flavours.
When asked about famous chefs that have influenced him, Guido replied, "I like the patisserie art of Amaury Guichon, the dishes created by Tom Keller at The French Laundry and by Carlos Gaytán in Chicago, the first Mexican chef to receive a Michelin star. When I worked in a Michelin restaurant, I saw first-hand how creativity is given free rein to experiment and deliver masterpieces in the pursuit of excellence and I fell in love.
"My inspiration really comes from my family. When I returned to Mexico, I spent time with my grandmother who is from the Mazahua indigenous group and I saw her reverence for the land, for the growing corn and woodland herbs. From making tortillas to sauces, her respect for the old ways, her culture and roots was what inspired me. To celebrate Mexico, our culture and our recipes, all the riches we have, and to create authentic experiences that people will remember, that is what I decided to do."
When asked for his recommendations, Chef Guido says, "As a Mexican, I would say to visitors, try our moles. These complex sauces are a blend of pre-Hispanic ingredients, Middle Eastern and Asian spices introduced by the Spaniards, a veritable world of flavors and there are so many of them. In October, the Flor de Canela dish of the month will be Duck in Mole Rosa, a little-known dish from the mountains of Guerrero. The sauce is made with pine kernels that give it a distinctive flavor and pink color.
"Contrary to popular belief, Mexican cuisine isn't so spicy, it should be balanced. It is so rich because of the world of ingredients we have at our fingertips." Chef Guido explains, "Look at the Mexican landscape, it is so varied. We have deserts, mountains and valleys, plateaus, temperate woodlands, cloud forest, lowland jungles and Pacific, Gulf and Caribbean coastlines. Our mosaic of climates and ecosystems means we can grow anything here. Look at the variety of corn and chilies that grow here and there are 150 species of edible mushrooms found nowhere else in the world!
"A generation of Mexican chefs has taken the national cuisine to the world stage. Chef Guido says, "Ricardo Muñoz Zurita started it and he was a mentor for chefs my age, we all followed him. A chef and food historian, he has published books including Larousse de la Gastronomía Mexicano and has won many awards at his restaurant Azul y Oro. Jonathan Gomez Luna at Le Chic is another highly acclaimed Mexican chef, and there are more.
"As a personal project, I am collaborating with a university and hoteliers in Valladolid to create a restaurant concept for a very distinctive hacienda. It would be my dream to win the first Michelin star in Mexico.
"My message to our owners, members and guests is that they get ready to try new flavors and experiences. There will always be something delicious in store for them. I hope that they will visit us and tell me about the dishes that they love at Grand Residences. We want the menus to have something for everyone.
"Finally, if you are vacationing with us in September, be sure to try Chiles en Nogada, our national dish, a symbol of Mexican Independence."
https://blog.grandresidencesbyroyalresorts.com/wp-content/uploads/2021/09/chef-guido.jpg
567
845
Vanessa Vivas
http://blog.grandresidencesbyroyalresorts.com/wp-content/uploads/2017/03/grand-residences-300x60.png
Vanessa Vivas
2021-09-14 16:06:35
2021-09-15 15:08:01
Meet the Chef: Guido de la Mora