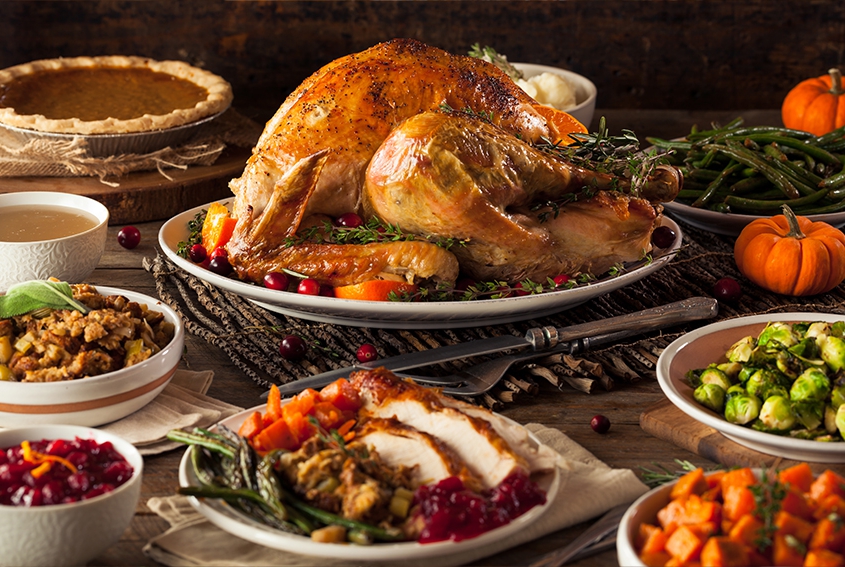 Chef Guido de la Mora has plenty of dining treats in store for you this fall. Start with Thanksgiving Dinner in November and a set menu full of autumn flavors. Cranberries and Crottin de Chavignol goat cheese and cranberry crostini and corn chowder pave the way for roast turkey and all the trimmings, maple syrup glaze, apricot stuffing and pumpkin or pecan pie for dessert bringing out the best of the harvest.
There's more festive fare to enjoy with family and friends this Christmas. On the menu are a Brie and almond tartlet amuse-bouche, creamy chicken, bacon and Cheddar cheese soup, spiced roast turkey and stuffing or oven-roasted leg of lamb with mint jelly and a Christmas tree dessert with hazelnut, passion fruit and Belgian white chocolate.
New Year's Eve is always a gala celebration at Grand Residences and this year we ring in 2023 with a veritable feast. The mingled flavors of Ferrero Rocher, hazelnut and foie-gras make the amuse-bouche an irresistible bite. Mushroom consommé with a dash of Pedro Ximenez sherry is followed by Beef Wellington, rich morel mushroom gravy, spinach and potato mash and glazed carrots or Halibut Fillet with lardons and Verjus du Perigord grape vinegar, sultanas and green peas. The "Time flies" dessert is the perfect finale, with almond, matcha, coconut, Valrhona chocolate and yogurt flavors.
You can start 2023 in style with our traditional New Year's Day Brunch. The buffet will feature seasonal fruit and a smoothie bar so that you can make your own combinations for a refreshing cool drink. Choose waffles and pancakes cooked to order and help yourself to freshly baked bagels, pretzels, bread and pastries. There are assorted cheeses and cold cuts, a seafood bar and omelettes and eggs to order. To add Mexican flavors to your brunch, try the traditional morning after dishes: birria stew, barbacoa and chilaquiles or munch on quesadillas. Be sure to ask for slices of the hanging BBQ roast leg of pork, so tender and juicy it literally falls off the bone.
For more information, prices and reservations, contact your Concierge. A Thanksgiving menu is also available through Room Service if you prefer to dine in your suite.